Brunel University, London
Title: Heat pipe based waste treatment system for biomass production from municipal waste
Biography
Biography: Hussam Jouhara
Abstract
Statement of the Problem: Waste management is one of the most crucial challenges that developed countries are currently facing. The environmental, economic and social effects of current waste treatments prove their inefficiency. Currently, domestic waste must be transported and disposed of in landfills or be burned in mass incinerators. Pyrolysis is a thermal treatment designed to recover energy, which can also contribute to reduce the biodegradable waste volume of landfills.
However, current pyrolysis systems cannot cope efficiently enough with the changing heat transfer from the heated walls to the materials and they require the development of very high temperatures on the chamber walls to overcome the thermal resistance within the reactor. Methodology & Theoretical Orientation: An innovative pyrolysis system is introduced. The heat pipe based waste treatment for the Home Energy Recovery Unit (HERU) does not involve any pre-treatment of the waste stream. The HERU achieves high uniformity of the heat distribution within the chamber and high energy recovery. After the waste treatment the waste heat from the pyrolysis process is used to warm up water to cover domestic hot water demands. Findings: The COP of the HERU system can reach up to 9.4, while the carbon footprint of the unit was between 0.0782 to 0.3873 kgCO2e per kg of treated waste. Conclusion & Significance: The HERU provides a green solution to the disposal of waste streams and at the same time a sustainable, renewable solution to power generation. Its implementation could reduce greenhouse gas emissions, diminish the biodegradable content of residual waste sent to landfill, generate fuels and help the government to achieve low emission levels.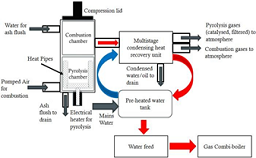 Recent Publications:
1. Sayegh M., Danielewicz J., Nannou T., Miniewicz M., Jadwiszczak P., Piekarska K., Jouhara H. (2017) Trends of European research and development in district heating technologies. Renewable and Sustainable Energy Reviews 68: 1183-1192.
2. Ramos J., Chong A., Jouhara H. (2016) Experimental and numerical investigation of a cross flow air-to-water heat pipe- based heat exchanger used in waste heat recovery. International Journal of Heat and Mass Transfer 102: 1267-1281.
3. Jouhara H., Fadhl B., Wrobel L. (2016) Three-dimensional CFD simulation of geyser boiling in a two-phase closed thermosyphon. International Journal of Hydrogen Energy 41: 16463-16476.
4. Jouhara H., Milko J., Danielewicz J., Sayegh M., zulgowska- Zgrzywa M., Ramos J., S.P. Lester S. (2016) The performance of a novel flat heat pipe based thermal and PV/T (photovoltaic and thermal systems) solar collector that can be used as an energy - active building envelope material. Energy 108:148-154.
5. Danielewicz J., Śniechowska B., Sayegh M., Fidorów N., Jouhara H. (2016) Three-dimensional numerical model of heat losses from district heating network pre-insulated pipes buried in the ground. Energy 108: 172-184.
6. Jouhara H., Szulgowska-Zgrzywa M., Sayegh M., Milko J., Danielewicz J., Nannou T., Lester S. (2016) The performance of a heat pipe based solar PV/T roof collector and its potential contribution in district heating applications. Energy
7. Amini A., Miller J., Jouhara H. (2016) An investigation into the use of the heat pipe technology in thermal energy storage heat exchangers. Energy